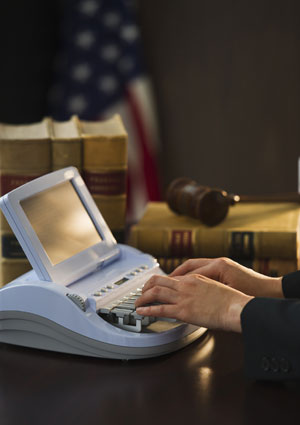 Our program for Court Reporters and Stenographers offers some of the broadest coverages available and is written nationwide on Occurrence Forms.
Court reporters and stenographers create verbatim transcripts of speeches, conversations, legal proceedings, meetings and other events. Written accounts of spoken words or legal transcription are essential for correspondence, records, or legal proof, and court reporters provide those accounts. Court reporters play a critical role not only in judicial proceedings, but also at any meeting where the spoken word must be preserved as a written transcript. They are responsible for ensuring the accuracy of court transcripts and for providing a complete, accurate, and secure legal record. In conjunction with preparing and protecting the legal record, many court reporters assist judges and trial attorneys in numerous ways, such as organizing and searching for information in the official record or making suggestions to judges and attorneys regarding courtroom administration and procedure. Increasingly, court reporters provide closed-captioning and real-time translating services to the deaf and hard-of-hearing community.
There are several methods of court reporting, but the most common is called stenographic. Using a stenotype machine, stenotypists document all statements made during official proceedings. The stenotype machine allows them to press multiple keys at once to record combinations of letters representing sounds, words, or phrases. These symbols are electronically recorded and then translated and displayed as text in a process called computer-aided transcription (CAT). In real-time court reporting, the stenotype machine is linked to computers for real-time captioning, often of television programs. As the reporter keys in the symbols, the spoken words instantly appear as text on the screen.
Another method of court reporting is called electronic reporting. This method uses audio equipment to record court proceedings. The court reporter monitors the process, takes notes to identify speakers, and listens to the recording to ensure its clarity and quality. The equipment used may include analog tape recorders or digital equipment. Electronic reporters and transcribers often are responsible for producing a written transcript of the recorded proceeding.
Voice writing that is another type of court reporting. Using the voice-writing method, a court reporter speaks directly into a voice silencer—a hand-held mask containing a microphone. The mask prevents the reporter from being heard during testimony as the reporter repeats the testimony into the recorder. Voice writers record everything that is said by judges, witnesses, attorneys, and other parties to a proceeding, as well as gestures and emotional reactions. Written transcripts are prepared afterwards from the recordings.
According to United States Department of Labor, court reporters are responsible for a number of duties both before and after transcribing events. Stenographic or voice-writing reporters must create and maintain the computer dictionary that they use to translate their keystroke codes or voice files into written text. They may customize the dictionary with parts of words, entire words, or terminology specific to the proceeding, program, or event that they plan to transcribe. After documenting proceedings, stenographic reporters must edit the computer-generated translation for correct grammar. All reporters are responsible for accurate identification of proper names and places. Electronic reporters ensure that the record or testimony is discernible. Reporters usually prepare written transcripts, make copies, and provide information from the transcript to courts, counsels, interested parties, and the public on request. Court reporters also develop procedures for easy storage and retrieval of all stenographic notes, voice files (commonly referred to as "stenograms"), or audio recordings in paper or digital form.
Our policy is designed for:
Court Reporters
Stenographers
Depositions

Attorney Services
Legal Videographers
Commercial General Liability $1,000,000 - Each occurrence $2,000,000 General Liability
Commercial General Liability Amendatory
Errors and Omissions Liability (E&O) Endorsement $1,000,000
Sexual Abuse & Molestation $100,000
Business Personal Property Coverage $50,000
Care, Custody, Control Amendatory Endorsement $100,000
Cyber Liability Coverage $300,000
Lost Key Liability Endorsement
Real Property Damage Amendatory Endorsement
Additional Insured - Designated Person (Blanket)
Primary Wording/Non-contributory Wording: $100 additional premium for each
Waiver of Subrogation: $100 additional premium for each
Blanket Waiver of Subrogation: $500
Blanket Additional Insureds: No additional Charge
Commercial Auto
Workers' Compensation
Property Insurance
Application Information - Request a Quote
For many of our coverages you can quickly request a quote using our online quick-quote forms. At the bottom of each quick quote form you can indicate the urgency of your request. If you have any questions, please call or email the person indicated in the contact area for this coverage.
NOTE: All applications must be underwritten and a quotation will be issued subject to underwriting guidelines. THE QUOTE DOES NOT BIND COVERAGE.
---
Requirements to receive coverage:
(Not required for Quick Quotes)
- Along with the full application, please fax us the Terrorism Form.
Additional requirements for Agents and Brokers
:
A signed broker agreement,
a copy of your broker/insurance license, and
a copy of the declaration page of your E & O Insurance policy
To receive a Workers' Comp quick indication quote, please fill out our online quick quote indication form.
To fully apply for workers' compensation insurance, please complete Acord 125 and Acord 130 (workers' compensation section), and submit them along with current value loss runs to Karen Metcalf or Sean Nowell.
Online Quick Quote Forms
PDF Application Forms
You will need to provide an email address with the Online Quick Quote form. If you do not use email, please use the PDF application form instead.

Complete the Online Form
Indicate the urgency of your request at the bottom of the form.
Click the "Submit" button to send us your request.

To protect your privacy, please DO NOT EMAIL PDF application forms to us.

Complete the PDF application forms on your computer.
Print the applications
Sign the applications
Fax the completed form and any other materials to: (760) 471-9378 or (800) 573-8550.

Need the Free Adobe Reader for those PDF files, or do you want to get the latest version? Get it here:
Adobe Reader Download
.
Contact Us
Your AMIS representative is Michelle Nowell. Please call her at
(800) 843-8550 or (760) 471-7116, or email us using the links below.

For all Accident Investigator and Bond applications:

For Commercial Auto and Worker's Comp applications: