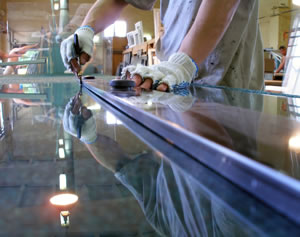 Glass serves many uses in modern life. Insulated and specially treated glass keeps in warmed or cooled air and provides good condensation and sound control qualities, while tempered and laminated glass makes doors and windows more secure. In large commercial buildings, glass panels give office buildings a distinctive look while reducing the need for artificial lighting. The creative use of large windows, glass doors, skylights, and sun room additions makes homes bright, airy, and inviting.
About Glaziers
Glaziers are responsible for selecting, cutting, installing, replacing, and removing all types of glass. They generally work on one of several types of projects. Residential glazing involves work such as replacing glass in home windows, installing glass mirrors, shower doors, and bathtub enclosures, and fitting glass for tabletops and display cases. On commercial interior projects, glaziers install items such as heavy, often etched, decorative room dividers or security windows. Glazing projects also may involve replacement of storefront windows for establishments such as supermarkets, auto dealerships, or banks. In the construction of large commercial buildings, glaziers build metal framework extrusions and install glass panels or curtain walls.
Besides working with glass, glaziers also may work with plastics, granite, marble, and other similar materials used as glass substitutes, as well as films or laminates that improve the durability or safety of the glass. They may mount steel and aluminum sashes or frames and attach locks and hinges to glass doors. For most jobs, the glass is precut and mounted in frames at a factory or a contractor's shop. It arrives at the job site ready for glaziers to position and secure it in place. They may use a crane or hoist with suction cups to lift large, heavy pieces of glass. They then gently guide the glass into position by hand.
Once glaziers have the glass in place, they secure it with mastic, putty, or other paste-like cement, or with bolts, rubber gaskets,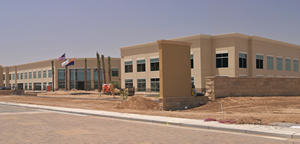 glazing compound, metal clips, or metal or wood moldings. When they secure glass using a rubber gasket—a thick, molded rubber half-tube with a split running its length—they first secure the gasket around the perimeter within the opening, then set the glass into the split side of the gasket, causing it to clamp to the edges and hold the glass firmly in place.
Our insurance program has been in place since 1990, and its stability is proven by the fact that we have had only two insurance companies during all that time. We have a staff of professional insurance brokers who can handle your insurance needs for General Liability, Bonds, Property Insurance, Commercial Auto and CA Workers' Compensation.

Looking for the best coverage at competitive premiums? Give Sean Nowell at AMIS a call for a fast quote. He works with retail brokers as well. Just complete the Glazier application below and fax or email to Sean. His email address is snowell@amiscorp.com or fax to 800-573-8550 or 760-471-9378.
Commercial General Liability
Limits $1,000,000 each Occurrence and $2,000,000 General Aggregate
Products/Completed Operations
Personal Injury, Advertising Injury
Fire Damage Legal Liability
Premises Liability
Blanket Additional Insured
Waiver of Subrogation
Primary Wording
Insurance Company rated "A- VIII" (Excellent) by A.M. Best Company
Application Information - Request a Quote
For many of our coverages you can quickly request a quote using our online quick-quote forms. At the bottom of each quick quote form you can indicate the urgency of your request. If you have any questions, please call or email the person indicated in the contact area for this coverage.
NOTE: All applications must be underwritten and a quotation will be issued subject to underwriting guidelines. THE QUOTE DOES NOT BIND COVERAGE.
Additional requirements for Agents and Brokers
:
A signed broker agreement,
a copy of your broker/insurance license, and
a copy of the declaration page of your E & O Insurance policy
Online Quick Quote Forms
PDF Application Forms
You will need to provide an email address with the Online Quick Quote form. If you do not use email, please use the PDF application form instead.

Complete the Online Form
Indicate the urgency of your request at the bottom of the form.
Click the "Submit" button to send us your request.

To protect your privacy, please DO NOT EMAIL PDF application forms to us.

Complete the PDF application forms on your computer.
Print the applications
Sign the applications
Fax the completed form and any other materials to: (760) 471-9378 or (800) 573-8550.

Need the Free Adobe Reader for those PDF files, or do you want to get the latest version? Get it here:
Adobe Reader Download
.
Contact Us
Your AMIS team is Sean Nowell, Bill West, and Karen Metcalf. Please call us at (800)843-8550 or (760)471-7116, or email us using the links below.

For Bond applications:

For all other types of applications: